"Marking time is universal
It is what we all do with our lives
Some more gracefully than others
But no one leaves an unmarked path"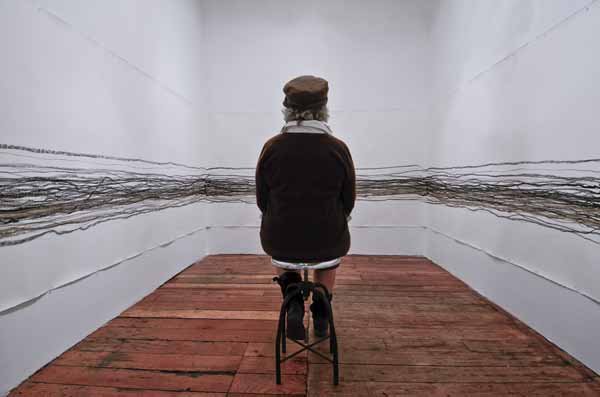 Time has been the central focus of Silver Simons' work for over three decades. She calls herself a "chronicler" of time, identity and memory, painstakingly marking the moments of our lives. Her minimal, yet fastidious, canvases appear like ancient scrolls or calendars that have been unearthed and are frayed and unraveling. Many of the canvases are provocatively slashed revealing a series of vertical lines serving as both physical and metaphorical portals to other dimensions. Silver Simons is inspired by an insatiable desire to understand and interpret time, memory and identity. Quietude and mesmerizing repetitive variations of form, intent and action inform her pieces.
Unraveling, as a search for essence, is the primary focus of her new body of work, Ripped. In this work, destruction proceeds construction. Strands pulled from raw canvas accumulate and affirm a simultaneous presence and absence while retaining the visual and conceptual refinement we have come to expect in her work. Freed from their woven alignment, the threads discover new paths, revealing alternative truths in space and time. During the flow of these unraveling meditations, assumptions and expectations are revealed, and much like the threads, are relinquished.
Silver Simons is a painter, installation and performance artist who lives and works in Los Angeles. She received a Bachelors of Studio Arts from the University of Pittsburgh and a Masters of Fine Arts in Drawing from Wayne State University, Detroit. Her work has been exhibited at MOCA, the Santa Monica Museum of Art, The Detroit Institute of Art, The Wolfson Museum, Jerusalem, Hechel Shlomo Museum, Jerusalem and Mishkan L'Omanut, Ein Harod, Israel. Silver Simons' work was featured in both the 2013 and 2015 Jerusalem Biennale. She is the recipient of numerous grants and commissions.